Buck Storm has earned his place on the top shelf of this generation's story tellers. 
                                                         - AFA Journal
 Buck is a gorgeous writer and I found myself reading sentences over and over just because I enjoyed them so much. Even with that, I read this book in under 36 hours - something I haven't done since I was a teenager. I am an instant and loyal fan...
Detective Early Pines loves his southern Arizona desert, often thinking he could stare at it all day long. But now that he's forced to do just that, the truth is the view from his back porch is getting old. He's on mandatory leave from the police department, simply for punching a wife beater who had it coming. Early is in dire need of a distraction from his own loud thoughts. So when an old friend invites him to tag along to a rodeo down in Old Mex, it seems like just the ticket.
     But if there's one constant in the world, it's that life always throws a guy curveballs. With a flat tire, a roadside bar, and a beautiful woman with trouble on her hands, Early's distraction takes a hard right turn--straight to Los Angeles, six hundred miles west.
     Hammott Lamont is waiting there in his own personal hunting ground. The reclusive filmmaker is a veritable cult leader to Hollywood stars--and he's sure his latest project will redefine art history in his image. He's got a plan for a brutal, modernized version of the Christ story, and he's ready to trample anyone who stands in the way of his colossal vision. That is, until big, loud Early Pines hits the coast for a clash of two titans who never saw each other coming.
     Quirky, lyrical, and unexpected, The Sound the Sun Makes offers a warm and sunny side trip for fans of Jimmy Buffett, Carl Hiaasen, and Barbara Kingsolver. 
"For a person like me, who prefers histories and biographies, novels come few and far between unless they have Buck Storm's name on them. He is a master story teller whose creative way with words is mesmerizing. Equally impressive is his amazing ability to provide fresh insights into biblical stories by fleshing out the central characters. Reading a Buck Storm novel is a joyous experience and a spiritual blessing." Dr. David R. Reagan, founder and senior evangelist for Lamb & Lion Ministries
What happens when the hard line between life and death blurs?
When Joseph of Arimathea took Yeshua's corpse off the cross and placed it in his own tomb he risked everything he'd worked years for. But now Yeshua's body is gone, and Joseph is running for his life.
Sister has never known anything but the Lower City slums. She's a creature of the night, so base and inconsequential she's never even warranted a name.
Welcome to 1st century Jerusalem, where rumor and deceit rule the day. Step into The Light and walk the ancient city side-by-side with the very first believers. Feel what they felt. Risk what they risked. And find, with them, the unshakeable truth indelibly written across the heavens before time began—Yeshua changes everything.
And Everything is never what you expect.
Get THE LIST and THE LIGHT. See for yourself what everyone is talking about!
"From a small Southwest town to the island of Corfu, Storm's quirky characters take us to a place where love, compassion, and redemption may seem out of reach but are always within our grasp. From a cameo from Elvis to a story within a story, The Beautiful Ashes of Gomez Gomez becomes more than a metaphor. Is Paradise, Arizona, real? We can only hope." -- Bill Higgs, author of Eden Hill
When his wife, Angel, is killed in a head-on collision, Gomez Gomez feels he can't go on--so he doesn't. He spends his days in the bushes next to the crash site drinking Thunderbird wine, and his nights cradling a coffee can full of Angel's ashes. Slow, sure suicide, with no one for company but the snakes, Elvis's ghost, and a strange kid named Bones.
Across town, Father Jake Morales plays it safe, haunted by memories of the woman he left behind, hiding his guilt, loss, and love behind a thick wall of cassock and ritual. Then a shady business deal threatens the town--and his good friend Gomez Gomez--and Father Jake can't just stand by and watch. But what happens when the rescuer is the one in need of saving?
The Beautiful Ashes of Gomez Gomez is quirky, heartfelt, and deeply human. Lives and hopes collide in the town of Paradise, stretching across decades and continents in this epic story of forgiveness, redemption, and love.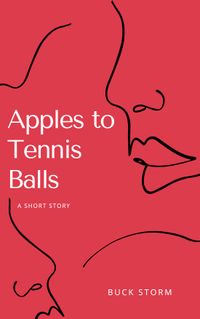 Join the family and receive Apples to Tennis Balls as a thank you!