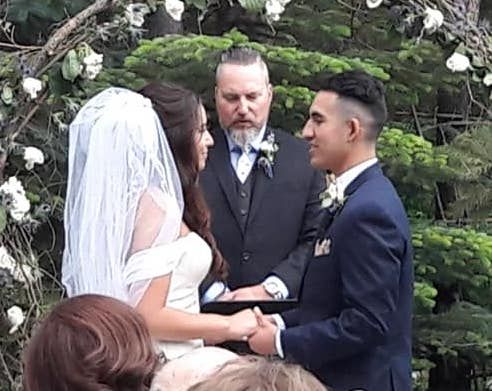 Traveler's Tip #354 
You can let off the gas, but the miles keep coming. Don't waste a single minute... 
Thinking about my daughter today… 
Saturday I walked my daughter (and pal) down the aisle, handed her to her intended, and then stepped up front and married them. No kidding, I really did. 
    Cue tears, my friends. Happy Father's Day to me. 
    Robert is a great guy. He loves the Lord. I love him. But, c'mon man, she's my daughter! 
    When I got to the part in my notes that said Vows, I have to admit I almost lost it completely, but I wanted to hold it together for them. I did pretty good until the toasts started, then all bets were off. Tears continued on through dinner and then definitely through the father-daughter dance (Randy Newman's You've Got a Friend in Me). 
    Lots of smiles. Lots of tears. Lots of dancing. A crazy happy sad day. 
    And now they're in Hawaii and the air around here feels a bit emptier. I'm cried out. Both happy and sad tears, but isn't that life? 
    Another stanza from the pen of the Great Poet. And on life's pages, change is a constant thing. 
    Just the other day, I was the first person in this world to hold her. She was only a few seconds old. I remember it perfectly. She studied me—looked right inside me—with an intently serious look on her tiny face. I thought she had wise eyes, like she'd stepped into the world with answers to questions I hadn't even thought of yet. In the end, I guess she figured I was okay and it's been that way ever since. 
    Maybe I'm a little sad, and a little happy, and a little sad, and… but she's in God's hands and I wouldn't want it any other way. She's so happy and that thrills me. 
    Still, I can't wait to see her. Come back, kid! 
    So, my friends new and old, we've seen some miles. And many more to come. Please raise a glass with me to one of the best souls on the planet, Willow Stor…I mean Quezada. Willow, I wish you and Robert a million years of the groovy kind of love your mother and I have always had. You still have wise eyes. You still look right through me. 
   God is good. All the time. 
   Aloha and fair winds, 
   Buck/Papa